2.1 Substrate/Condition:
Substrate and Condition allow users to specify which kind of environment including main carbon source and oxygen state that E. coli grows in. The alternative options for substrate are glucose, xylose or glycerol, and alternative options for condition are anaerobic or aerobic according to previous study[3].
2.2. Target / Intermetiate metabolite(s):
These two inputboxes allow users to input the target compound and intermediate metabolites(non-necessary to input). The intermediate metabolites help users to filter out the biosynthetic pathways which don't involve the intermediates.
2.3. HeterRxn-steps:
It must be an integer, which means how many heterologous reactions involved in candidate pathway at most. Of course, the computing time will be prolonged with its increasment,the maximum number of heterologous reactions is limited to 20.
2.4. Iterations:
Because the principle of the pathway-searching algorithm is based on probability, users should enter the iteration-searching times. For example: 5,000 times or more. Of course, the computing time will be prolonged with its increasment,the maximum of iteration is limited to 30,000.(For instance, when searching astaxanthin, Iterations and HeterRxn-steps are usually set 30,000 and 9 respectively,it always takes about one minute).
2.5. Biomass:
It represents a percentage that minimum growth rate of mutant type E. coli accounts for maximum theoretical growth rate of WT type. Users could enter a decimal between 0 and 1, the larger entered number, the faster growth does the organism will get.
3: Search Results:
3.1: Set the numbers of pathways to show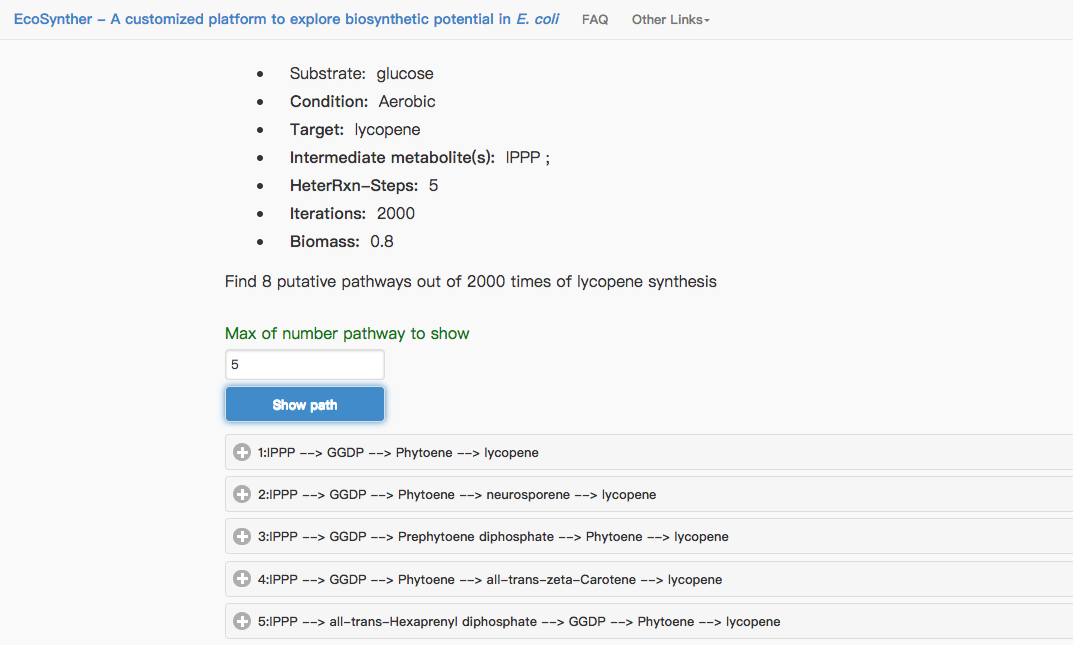 3.2: Calculate the carbon fluxes and theoretical yields of the target molecule in selected pathway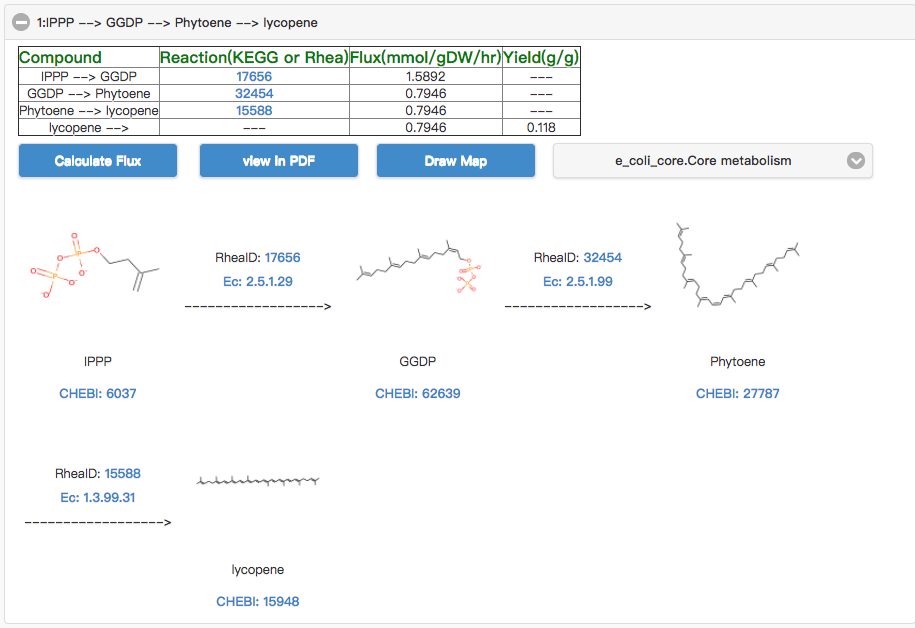 Reference
[1] Orth, J., et al. A comprehensive genome-scale reconstruction of Escherichia coli metabolism—2011. In, Molecular Systems Biology. 2011. p. 535-544
[2] Feist, A.M., Zielinski, D.C. and Orth, J.D. Model-driven evaluation of the production potential for growth- coupled products of Escherichia coli. In, Metabolic Engineering. 2010. p. 173-186.
[3] Varma, A., Boesch, B.W. and Palsson, B.O. Stoichiometric interpretation of Escherichia coli glucose catabolism under various oxygenation rates. In, Applied and Environmental Microbiology. 1993. p. 2465-2473